Hype Williams, Dave Meyers, Spike Jonze. When you think of the brilliant minds behind the most iconic videos ever made, these are the names that come to mind. Certainly not some guy named Melvin, and definitely not Baron Davis. And yet, here we are.
The third episode of WTF Baron Davis, which aired Sunday, finds us in an exclusive mini-documentary/exposé from behind the scenes of a failed music video shoot piecing together where it all went wrong. We don't know what happened, but we do know that it is Baron Davis' fault.

Director Melvin (Melvin Greggs) is shooting a video for an artist named Ava B in Baron's backyard, a favor orchestrated by B-dot in the hopes that Melvin will shoot the sizzle for Ball Out. The video starts out fine and dandy until the camera reveals she's sporting a rather prominent cameltoe, which no one seems to have an issue with—that is, except Baron.
Despite B-Dot's desperate attempt to keep him from doing so, Baron pipes up, persistently pointing Ava's situation out to Melvin and later Ava herself, which (understandably) causes her to storm off set. In a bid to get her to come back to the set and finish the video, Baron goes full mentor, introducing us to rule 187: turning a double negative into a positive. "Instead of making something about the toe, make the toe about nothing and be something," he advises.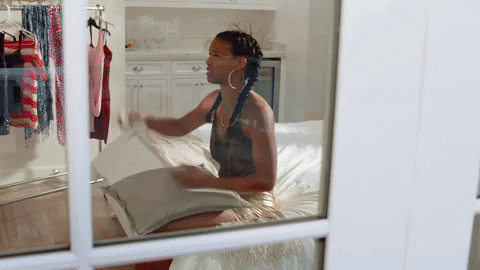 His clear attempt to get Ava to cover up backfires, and she feels more inspired than ever to be proud of what her mama gave her and not hide her toe anymore, officially leaving the shoot to create a more toe-positive video. The shoot completely falls apart, Melvin severs ties with B-Dot, and Baron learns absolutely nothing. Just another day for Baron Davis.
Who took Ws:
Ava B. for finding empowerment in her cameltoe
Ron for enjoying a good cameltoe
Who took Ls:
Melvin
B-Dot
Read our recap of episodes 1 and 2 here.